Cisco Meraki
We focus on proactive IT services that seamlessly integrate with your network and hardware architecture.
What is Cisco Meraki?
Cisco offers cloud-managed Meraki access points (MR), switches (MS), and security appliances (MX), as well as mobile device management and enterprise mobility management solutions (Systems Manager Standard and Enterprise).
The Cisco Meraki dashboard allows you to manage, configure, and monitor your Cisco Meraki network in an intuitive browser interface.
Easy to Set Up
All drop-down menus in an easy-to-use interface with enterprise functionality.
Easy to Access
Configure and monitor the network from anywhere you can access your browser.
Easy to Scale
Ship Meraki hardware anywhere and add it to your network just by entering the serial number into the dashboard.
Easy to Sell
Ideal for all organizational sizes, from small health clinics to large distributed enterprises.
Product Feature Highlights
Deep Network Visibility
Layer 7 visibility and management for fine-grained control over how people use the network bandwidth.
Live Troubleshooting
Ethernet cable testing, event logs, and live packet captures right from the dashboard.
Bulletproof Security
6 complex devices built into one, easy-to-use security appliance - branch router, firewall, site-to-site VPN, content filter, load balancer, and WAN accelerator.
High Density Support
Automatically optimizes and delivers superior performance in the highest density wireless environments and under intense interference conditions.
Location Analytics
CMX location analytics provides real-time location statistics to improve customer engagement and loyalty across sites.
Mobility Management
The only networking solution that provides unified management of mobile devices, Macs, PCs, and the entire network from a centralized dashboard.
Security
Cisco Meraki MX Security Appliances are ideal for organizations considering a Unified Threat Management (UTM) solution, for distributed sites, campuses or datacenter VPN concentration.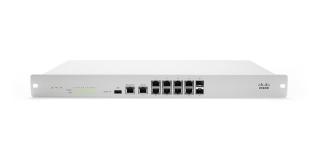 Since the MX is 100% cloud-managed, installation and remote management is simple. The MX has a comprehensive suite of network services, eliminating the need for multiple appliances. These services include SD-WAN capabilities, application-based firewalling, content filtering, web search filtering, SNORT® based intrusion detection, and prevention, Cisco Advanced Malware Protection (AMP), web caching, 4G cellular failover and more. Auto VPN and SD-WAN features are available on our hardware and virtual appliances, configurable in Amazon Web Services.
Switching
Cisco Meraki offers a broad range of switches, built from the ground up to be easy to manage without compromising any of the power and flexibility traditionally found in traditional enterprise-class switches.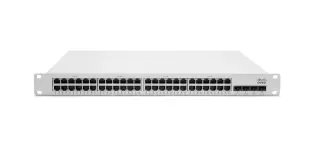 Meraki access & aggregation switches are all managed through an elegant, intuitive cloud interface, freeing administrators to spend less time on configuration and more time on meeting business needs. To set up a Meraki switch, just plug it in; there's no need for repetitive, command-based configuration, and switches can be up and running within minutes of connecting them to the network.
A powerful centralized management interface gives administrators deep visibility into the network and how it is used. See which switches are near capacity across hundreds of sites. Quickly provision and reconfigure switch ports with security, QoS, and more. The Meraki dashboard provides unified policies, event logs, and monitoring, making it easy to manage network deployments without sacrifice.
Wireless
High-performance cloud-managed 802.11ac wireless The Cisco Meraki MR42 is a three–radio, cloud-managed 3x3 MIMO 802.11ac Wave 2 access point.

Designed for general purpose next-generation deployments in offices, schools, hospitals, and hotels, the MR42 provides performance, security, and manageability. The MR42 provides a maximum 1.5 Gbps frame rate with concurrent 802.11ac Wave 2 and 802.11n 3x3:3 MIMO radios, and security and spectrum visibility via a third radio dedicated to 24x7 WIDS/WIPS and automated RF optimization. An integrated Bluetooth low energy (BLE) radio delivers Beacon functionality and BLE device scanning. The combination of cloud management, 802.11ac Wave 2, full-time RF environment scanning, and an integrated Bluetooth technology delivers the high throughput, reliability, and flexibility required by the most demanding business applications like voice and high-definition streaming video, both today and tomorrow.
MR42 and Meraki Cloud Management: A Powerful Combo The MR42 is managed through the Meraki cloud, with an intuitive browser-based interface that enables rapid deployment without training or certifications. Since the MR42 is self-configuring and managed over the web, it can even be deployed at a remote location without on-site IT staff. The MR42 is monitored 24x7 via the Meraki cloud, which delivers real-time alerts if the network encounters problems. Remote diagnostics tools enable real-time troubleshooting over the web, meaning multi-site, distributed networks can be managed remotely. The MR42's firmware is always kept up to date from the cloud. New features, bug fixes, and enhancements are delivered seamlessly over the web, meaning no manual software updates to download or missing security patches to worry about.