MIS Technology Group has created a software security bundle by putting together some of the industry's best of breed software for security. MIS believes fully in a layered approach in order to maintain a safe and stable environment. MIS uses Webroot SecureAnywhere Business Endpoint Protection, Cisco Umbrella, and ConnectWise Automate as our 3 layers of protection.

Cisco Umbrella (formally OpenDNS) is the world's most recognized DNS protection service.
As a Secure Internet Gateway, Cisco Umbrella provides the first line of defense against threats on the internet wherever users go. Umbrella delivers complete visibility into internet activity across all locations, devices, and users, and blocks threats before they ever reach your network or endpoints. As a cloud-delivered, open platform, Umbrella integrates easily with your existing security stack and delivers live threat intelligence about current and emerging threats.
By analyzing and learning from internet activity patterns, Umbrella automatically uncovers attacker infrastructure staged for attacks, and proactively blocks requests to malicious destinations before a connection is even established — without adding any latency for users.
With Umbrella, you can stop phishing and malware infections earlier, identify already infected devices faster, and prevent data exfiltration.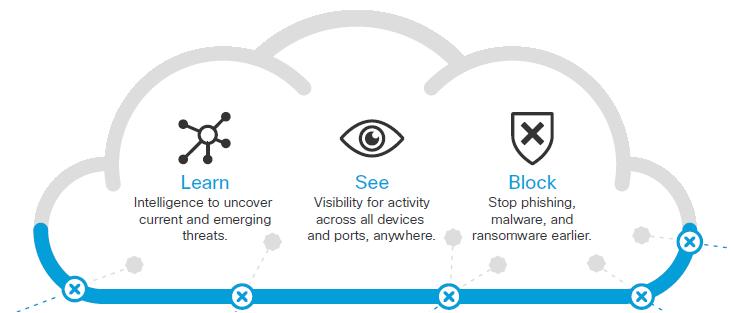 The Domain Name System (DNS) is a foundational component of the internet — mapping domain names to IP addresses. When you click a link or type a URL, a DNS request initiates the process of connecting any device to the internet. Umbrella uses DNS as one of the main mechanisms to get traffic to our cloud platform, and then uses it to enforce security, too.
When Umbrella receives a DNS request, it uses intelligence to determine if the request is safe, malicious or risky — meaning the domain contains both malicious and legitimate content. Safe and malicious requests are routed as usual or blocked, respectively. Risky requests are routed to our cloud-based proxy for deeper inspection. The Umbrella proxy uses Cisco Talos web reputation and other third-party feeds to determine if a URL is malicious. Our proxy also inspects files attempted to be downloaded from those risky sites using anti-virus (AV) engines and Cisco Advanced Malware Protection (AMP). And, based on the outcome of this inspection, the connection is allowed or blocked.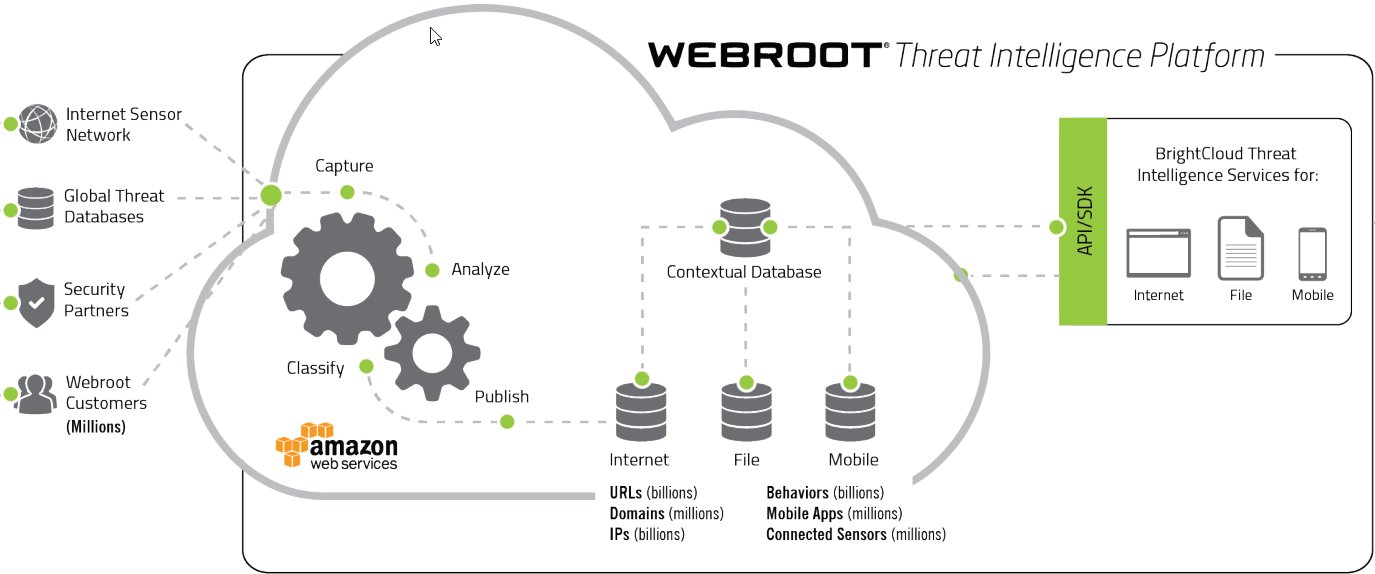 Webroot SecureAnywhere Business Endpoint Protection is a lightweight highly effective protection system that adds a second layer to the portfolio. Webroot is an enterprise grade endpoint protection software that is fully manageable from the cloud. MIS maintains all policies utilizing the Webroot cloud portal. Allowing us to easily update policies to computers distributed across vast networks. Webroot also has plugins for Google Chrome and actively scans websites during internet usage. The SecureAnywhere® Difference Webroot SecureAnywhere® Business Endpoint Protection offers a unique security approach that protects against threats across numerous vectors; including email, web browsing, file attachments, hyperlinks, display ads, social media apps, and connected devices like USB drives, as well as other blended threats with the potential to deliver malicious payloads.
Powered by the industry-leading cloud-based Webroot Threat Intelligence Platform, Webroot solutions combine the latest real-time intelligence from Webroot BrightCloud® services with advanced machine learning and behavior-based heuristics. Using our always up-to-date, cloud-based technology, Webroot is able to detect, analyze, categorize, score, and highly accurately predict the threats each endpoint is experiencing in real time. By combining SecureAnywhere file pattern and predictive behavior recognition technology with cutting edge machine learning and the processing power of cloud computing, Webroot effectively stops malware and zero-day threats at the moment of attack. The Webroot approach is more effective and accountable than single-vector competitors. You no longer need to rely on an outmoded detection model that is easily overwhelmed by today's malware—a model that yields unknown dwell times, can't protect users until after malware has already infiltrated the system, and doesn't alert on attacks until long after the infiltration has occurred. Because SecureAnywhere Business Endpoint Protection is fully cloud-based, there are no definitions or signatures to deploy and manage. Malware detection occurs continuously in real time, so performance issues fade away. Scheduled systems scans are normally around 18 seconds and never impact device performance, even on virtual desktop and server environments, as well as embedded operating systems. The software agent itself happily coexists with other antivirus solutions, so there's no need to rip and replace an existing solution.
The third piece to our security bundle is our RMM tool by ConnectWise Automate. Automate allows us to update and patch Microsoft Windows. Making sure that the system is up to date to protect against threats. A majority of today's threats specifically target systems that are not up to date and exploit flaws that patches have already been released for.
All of these systems are coupled together: reporting and opening service requests within our system automatically. This allows us to respond to each issue and monitor trends in users behavior.